Simply changing the way you bathe can have a big affect on your eczema. For starters try bathing less often. Many people can get away with showering every other day. When you do take a shower or bath avoid using hot water and limit the amount of time you spend getting clean. It's also a good idea to use a milder soap (or a soap-free cleanser) and to use it sparingly. When it's time to dry off, use a soft towel and pat yourself dry rather than rubbing your skin. Use a moisturizer immediately afterward to seal moisture in the skin. Bath oils are not usually found to help.
Continue Learning about Eczema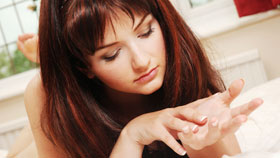 Eczema is a chronic allergic skin disorder that runs in families, resulting in red patches of skin that become extremely dry, itchy and irritated. Learn more about eczema from our experts.