Home remedies can be used to help relieve the itching and irritation associated with eczema. Here are some suggestions:
Calamine lotion or a cool, wet compress can relieve itching.
A warm bath with a sprinkle of baking soda or uncooked oatmeal can do the same. Use only mild cleansers and moisturize after bathing.
Wear soft, cotton fabrics that will not irritate your skin. Make sure your clothes are loose-fitting so they do not rub against your skin.
Use gentle, fragrance-free laundry detergent to wash clothes, towels, and bedding.
Hot, dry air can cause your skin to itch and flake, so use a humidifier to keep the air inside your home moist. Clean the humidifier regularly to prevent bacteria and fungus from building up.
Continue Learning about Eczema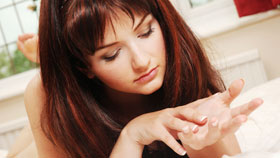 Eczema is a chronic allergic skin disorder that runs in families, resulting in red patches of skin that become extremely dry, itchy and irritated. Learn more about eczema from our experts.