It's common for people with allergies or asthma to also have eczema. These individuals are referred to as being "atopic." These conditions tend to run in families, so a patient with eczema commonly has family members who have had eczema, asthma or allergies.
People who suffer from eczema may also have asthma or hay fever. A doctor can run tests to eliminate a serious condition as the cause of your eczema symptoms. Consult a dermatologist for more information.
Continue Learning about Eczema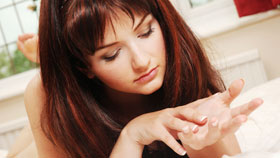 Eczema is a chronic allergic skin disorder that runs in families, resulting in red patches of skin that become extremely dry, itchy and irritated. Learn more about eczema from our experts.