There are several types of eczema. Atopic dermatitis is the most common form. Other types include:
allergic contact eczema, caused by touching something that you are allergic to, such as poison ivy
contact eczema, caused by touching something irritating like a certain product or detergent
dyshidrotic eczema, which causes irritation and blisters on hands and feet
neurodermatitis, which causes patches of extreme itch
nummular eczema, which causes crusty, scaly spots
seborrheic eczema, which causes scaly patches on the face or scalp
stasis dermatitis, which affects lower legs and is often caused by a blood flow problem
Continue Learning about Eczema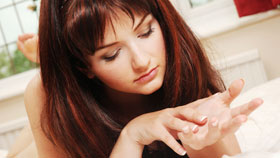 Eczema is a chronic allergic skin disorder that runs in families, resulting in red patches of skin that become extremely dry, itchy and irritated. Learn more about eczema from our experts.