Eczema, especially when it occurs on the face, can have an emotional impact. Learning about the condition and how to manage symptoms can help you cope. For example, develop a daily skin care plan and stick to it, to help keep symptoms at bay. Since stress can aggravate symptoms, consider ways to control it through relaxation techniques such as meditation. There are a variety of topical medications that can help treat symptoms and flare-ups. Consult a dermatologist for more information.
Continue Learning about Eczema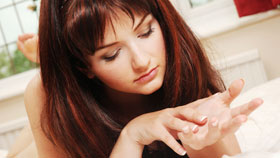 Eczema is a chronic allergic skin disorder that runs in families, resulting in red patches of skin that become extremely dry, itchy and irritated. Learn more about eczema from our experts.