The best way to care for your eczema if you live in a dry climate is to take steps to avoid drying your skin further. Bathe and shower in lukewarm, rather than hot, water to avoid stripping oils from your skin. Use gentle cleansers rather than harsh deodorant or perfumed soaps that may irritate your skin. Pat your skin dry gently after bathing, and while your skin is still damp, apply a moisturizing cream or ointment to keep skin moist. If eczema persists or worsens, see your dermatologist, who may prescribe medications to treat your eczema.
If you live in a dry climate you probably can't move just to help manage your eczema. However, you can counteract the effects of a dry climate by simply using a humidifier. It will help keep the humidity level up in your house and make sure you have a comfortable place to hide from the harsh elements outside. This combined with bathing less often, avoiding hot water and using milder soaps can help you manage your eczema.
Continue Learning about Eczema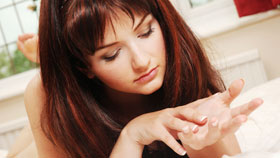 Eczema is a chronic allergic skin disorder that runs in families, resulting in red patches of skin that become extremely dry, itchy and irritated. Learn more about eczema from our experts.