Synthetic fabrics, wool, and other materials that are rough to the touch can make eczema worse by irritating the skin. Your dermatologist might suggest wearing cotton and cotton-blend clothing instead. Also, certain laundry detergents can irritate sensitive skin. A doctor might ask you to change detergents to see if you notice a difference.

Ask your doctor about other changes you can make to prevent eczema from getting worse.
Anything that irritates your skin can make your eczema worse and that includes rough, scratchy clothing. Avoid wool and synthetic fibers at all costs. Instead try to stick with light cotton fabrics that are soft on your skin. It's also a good idea to wear breathable clothing in hot weather or when exercising. Excessive sweating can make your eczema worse.
Continue Learning about Eczema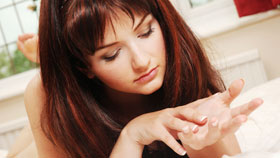 Eczema is a chronic allergic skin disorder that runs in families, resulting in red patches of skin that become extremely dry, itchy and irritated. Learn more about eczema from our experts.