Stress can be a trigger for eczema, especially if it causes you to flush or itch. Stress can also be related to flare-ups of other skin conditions, such as psoriasis and chronic urticaria.
Stress can contribute to eczema flare-ups and other skin diseases. If you find that stress triggers your eczema, use stress reduction techniques such as participating in a hobby, writing down your worries, and getting a pet. Getting adequate sleep may also help prevent eczema flare-ups in some people.

Continue Learning about Eczema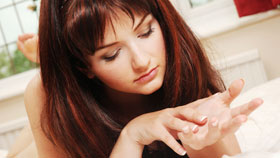 Eczema is a chronic allergic skin disorder that runs in families, resulting in red patches of skin that become extremely dry, itchy and irritated. Learn more about eczema from our experts.