Moisturizers can help prevent eczema flare-ups by keeping dryness at bay and holding onto moisture in skin. Applying a moisturizer can help protect your skin and seal in water so it remains hydrated. This protection can also help keep your skin's natural barrier intact, to minimize exposure to dust or grass pollens, which could be irritating. Some moisturizers can even help repair damaged skin. Consult a dermatologist for more information.
Continue Learning about Eczema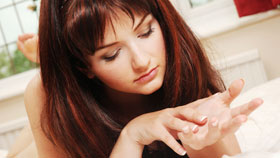 Eczema is a chronic allergic skin disorder that runs in families, resulting in red patches of skin that become extremely dry, itchy and irritated. Learn more about eczema from our experts.