It certainly has been used to treat eczema for several hundred years. The ongoing discussion is how effectively it treats eczema.

In his recent review Ernst finds the studies showing any effect weak. One study screened 700 patients and found 34 with eczema. In follow-up, 10 dropped out, leaving 24 who had a better result with the placebo.(http://www.ncbi.nlm.nih.gov/pubmed/19887810)

But in another study of 135 children, homeopathy performed as well as conventional medicine in the treatment of eczema. (http://www.ncbi.nlm.nih.gov/pubmed/19828937)

In a longer term study, children with eczema improved considerably and remained improved over an eight year period. (http://www.ncbi.nlm.nih.gov/pubmed/19091085)

Whether or not homeopathy is effective for an individual patient is a simple matter of trial and error, as it would be with any treatment.
Continue Learning about Eczema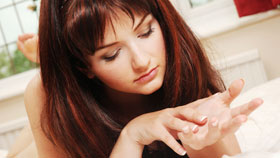 Eczema is a chronic allergic skin disorder that runs in families, resulting in red patches of skin that become extremely dry, itchy and irritated. Learn more about eczema from our experts.