Studies show the omega-3 fatty acids in flax seed help soothe skin conditions like eczema. That is because a diet with these lipids in adequate supply helps the skin protect itself from outside irritants, produce the proper amount of natural oils and retain moisture. Omega-3 fatty acids also have anti-inflammatory properties, which might calm skin flare-ups.
Continue Learning about Eczema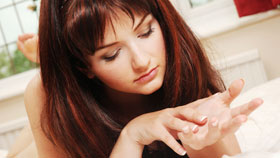 Eczema is a chronic allergic skin disorder that runs in families, resulting in red patches of skin that become extremely dry, itchy and irritated. Learn more about eczema from our experts.