Eczema is an inflammation of the skin that can disrupt its defensive barrier. As bacteria is normally found on the skin, this disruption can lead to infection, which would need to be treated with antibiotics. Long-term eczema can also lead to thickening of the skin from chronic itching, scratching and inflammation. Complications from the treatments used for eczema can also occur. For instance, topical steroid use over long periods of time can lead to thinning of the skin, pigment changes and stretch marks.
Talk with your doctor about complications associated with eczema. Eczema can lead to complications such as hand dermatitis, skin infections, eye complications, and exfoliative dermatitis. If you experience any of these complications, your doctor will advise you to see a dermatologist if you're not already seeing one, or to go to the emergency room if the condition becomes life-threatening.


Continue Learning about Eczema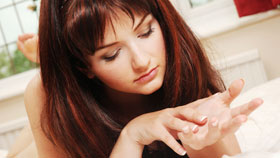 Eczema is a chronic allergic skin disorder that runs in families, resulting in red patches of skin that become extremely dry, itchy and irritated. Learn more about eczema from our experts.