Without knowing what specifically causes eczema it is difficult to prevent it. However, with a proper diagnosis and a better understanding of what triggers your flare ups it is possible to avoid those flare-ups and better manage the condition. It can be as simple as avoiding certain types of clothing, keeping your stress levels at a moderate level or even drying yourself differently when you get out of the bath or shower.
Continue Learning about Eczema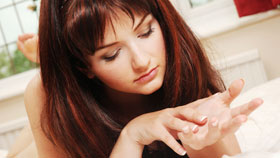 Eczema is a chronic allergic skin disorder that runs in families, resulting in red patches of skin that become extremely dry, itchy and irritated. Learn more about eczema from our experts.