Discoid eczema, also called nummular dermatitis, may be more likely to develop if you have other skin disorders, such as atopic dermatitis. Discoid eczema is a condition that produces round or oval sores. Doctors have also observed that people may be more prone to discoid eczema if they have poor circulation in the legs or a bacterial infection of the skin. Be sure to see a dermatologist if you have symptoms of discoid eczema.

Continue Learning about Eczema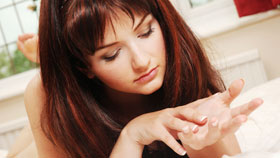 Eczema is a chronic allergic skin disorder that runs in families, resulting in red patches of skin that become extremely dry, itchy and irritated. Learn more about eczema from our experts.