Eczema is difficult to treat using just acupuncture alone. This is because skin lesions caused by eczema are generally not areas of the skin in which acupuncturists like to insert needles. If eczema lesions occur in areas where needles actually need to be inserted, then acupuncture treatments will be difficult. A practitioner of Traditional Chinese Medicine will often use internal as well as topical herbal remedies to treat eczema.
Continue Learning about Eczema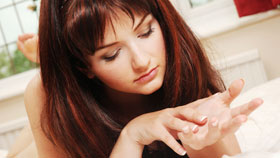 Eczema is a chronic allergic skin disorder that runs in families, resulting in red patches of skin that become extremely dry, itchy and irritated. Learn more about eczema from our experts.