Eczema, usually a minor condition signified by a rash, is caused by a defect in the top layer of the skin and can be itchy and irritating. In this video, Dr. Oz and Dr. Tanya Altmann discuss natural remedies for eczema.
There are a couple of natural remedies that may help with the treatment of eczema, or atopic dermatitis. The application of an emollient lotion after baths has shown to be beneficial in keeping moisture in the skin. As well as emulsifying oils added to warm bath water. Evening primrose oil has been used for the treatment of eczema and is likely the best known natural remedy. There have been conflicting reports on its usefulness; however the majority of studies have shown some benefit. It can take 4-8 weeks but you may get improvement in itching, crusting and redness.
Continue Learning about Eczema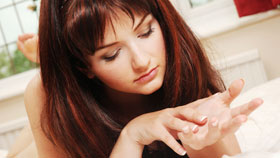 Eczema is a chronic allergic skin disorder that runs in families, resulting in red patches of skin that become extremely dry, itchy and irritated. Learn more about eczema from our experts.