Talk with your dermatologist about alternative therapies for eczema, an itchy skin condition. This doctor can effectively diagnose the type of eczema you have and can come up with an appropriate treatment plan. One alternative treatment for eczema is setting aside time for relaxing activities to combat stress if stress triggers flare-ups.
Many people claim that alternative treatments like the use of chamomile or witch hazel extract can help treat eczema. There is little scientific evidence to support these claims though so they have not been embraced as a trusted treatment. If you want to try an alternative treatment, it's best to consult with your doctor first. They can help you decide which options are best for you.
Continue Learning about Eczema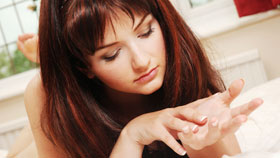 Eczema is a chronic allergic skin disorder that runs in families, resulting in red patches of skin that become extremely dry, itchy and irritated. Learn more about eczema from our experts.