While a healthy diet, adequate sleep and stress management are all important for a healthy immune system, studies show that Tai Chi, the ancient Chinese martial art, can also give it a boost. Find out how by watching the video with a Tai Chi expert and Dr. Oz.
Echinacea is an herbal powder derived from the leaves and stems of the coneflower. A popular folk remedy, Echinacea is said to boost the body's natural immunity. Unfortunately, the very few studies on Echinacea, both in Germany and the United States, have produced mixed results. Some found an immune response, others found no effect. At this stage, we really don't have any proof as to whether it works. It may have gotten a bad rap in some studies because a contaminant that was found in some of the preparations of Echinacea did cause liver disease. People with allergies to plants in the sunflower family should steer clear of Echinacea, and those with autoimmune diseases will want to talk to their doctors before taking this herb. In general, Echinacea appears harmless. Do not take Echinacea for long periods; even fans of the herb recommend taking it for only a few weeks at a time, when cold or flu symptoms set in.
Continue Learning about Echinacea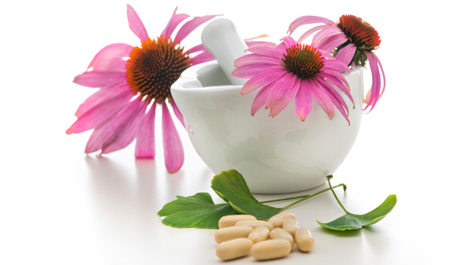 Echinacea is an herbal treatment for colds and other infections, especially those of the upper respiratory system. Derived from the coneflower, echinacea is available in a variety of products – capsules, teas and lotions. As with ...
any alternative medicines please consult your health provider for treatment, correct dosage, benefits and risk factors.
More