"Hunger" is what happens when you're truly stomach-hungry -- when you physiologically need food -- and it's different than "appetite," which is what happens when you're more "mind-hungry." We've all experienced signs of hunger - your belly growls, you may become light headed, or even shaky and dizzy. And we've all experienced appetite, too. It's a normal brain signal our bodies give us after smelling fresh cookies out of the oven, hearing someone say the words cherry pie, or the desire to eat more of the bag of x, y, or z even after your stomach is satisfied.

In situations where appetite is a key factor, consider the N.O.W. technique: Do you need the food to physiologically provide energy and nutrition or do you simply want the food? If it's a want, let your "want" become a "wait." Drink a glass of water, take a walk, read a book, call a friend. Wait to eat until it's your stomach telling you it's time to eat instead of your appetite!

If you've ever blamed your bones for your weight -- "I'm just big-boned" -- you may be onto something. In this video, Dr. Oz explains how your bones can signal you to keep eating, even when you're full.
If you notice an urge to eat something when you're not hungry, you're probably involved in a story -- something negative that the mind is telling you about yourself, life, others, or something you're doing. At those moments, you're arguing with reality, resisting the way life is showing up. Some examples of typical stories you may be running prior to an urge to attack the cookie jar are:
I'm bored.
I don't want to do this project.
I screwed things up again.
I don't want to make this phone call that I'm supposed to make.
I hate filing.
I can't face the piles of work on my desk.
Time to balance my checkbook again.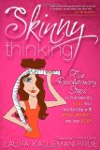 Continue Learning about Eating Habits and Nutrition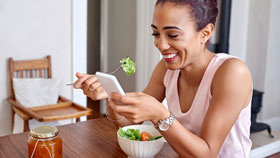 Three meals a day or five? That's only one aspect of the behavior known as eating habits. There is also the matter of style. Do you plan your meals or eat on the run - do you eat when you are happy, sad, or stressed - these are ot...
hers. Recognizing your eating style can help you work to achieve healthier eating habits.
More