When you pay attention to how much you are eating, you tend to eat less. Activities like watching TV and reading take your focus off how much you are eating and your sense of fullness. Stop eating when you sense that you are full or you pause to "take a break" from your meal -- no matter how much food is left on your plate. Eat slower and drink water with a meal. It takes 20 minutes for the message that you are full to get from your stomach to your brain, so meals should take at least 20 minutes, preferably longer. Chew each mouthful thoroughly. If you eat food that isn't on your plan, don't get down on yourself. Immediately get back on your plan rather than waiting for tomorrow or New Year's to start again.
Continue Learning about Eating Habits and Nutrition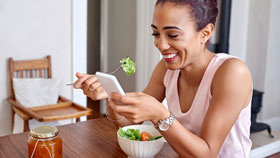 Three meals a day or five? That's only one aspect of the behavior known as eating habits. There is also the matter of style. Do you plan your meals or eat on the run - do you eat when you are happy, sad, or stressed - these are ot...
hers. Recognizing your eating style can help you work to achieve healthier eating habits.
More