We need food to live, to maintain the structure and function of our cells, and to support and fuel the systems that keep us going strong, from our immune system to our digestive, respiratory, circulatory, and so on. However, some foods can lack nutrients we need, and when we perpetually consume nutrient-poor foods and beverages that are filled with harmful impersonators such as hydrogenated trans fats, saturated fats, and refined sugars, topped with preservatives, additives, and artificial flavors and colors, we set ourselves up for downgrading our health. This happens because our bodies lose the capacity to self-heal efficiently as inflammation pathways take over and our natural sources of antioxidants are used up.

There is nothing wrong with eating, say, fast food and refined sugar, in moderation; it is the chronic abuse of these nutrient-poor foods that are a problem. I'm not the first to hawk the idea of everything in moderation, but it's really true that moderation is key to establishing a successful relationship with food and eating. I also understand the need for certain comfort foods and sugar on occasion. They make us feel good, can lift a bad mood, and plain and simple be a form of stress relief. In that regard, sugar can be medicine, too! The secret is to combine sugar with other ingredients, so it doesn't promote body chaos and send you through swinging highs and lows. If you eat sugar after a meal rich in lean proteins, healthy fats, and complex carbs, or eat sugar alongside these types of hormone-friendly foods, it won't incite such a huge insulin response as it would on its own.

From The Mind-Beauty Connection: 9 Days to Less Stress, Gorgeous Skin, and a Whole New You by Amy Wechsler.
Refined sugar, white flour products, and other sources of simple sugar are quickly absorbed into the bloodstream, causing a rapid rise in blood sugar. In response, the secretion of insulin by the pancreas is boosted.

A high-sugar, junk-food diet definitely leads to poor blood sugar regulation, obesity, and ultimately Type 2 diabetes. But, the stress on the body that they cause, including the secreting of too much insulin, can also promote the growth of cancer and increase the risk of heart disease.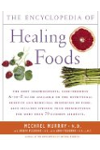 More About this Book
Encyclopedia of Healing Foods
From the bestselling authors of The Encyclopedia of Natural Medicine, the most comprehensive and practical guide available to the nutritional benefits and medicinal properties of virtually everything...
Continue Learning about Eating Habits and Nutrition