Planning prevents you from creating a home (or work) environment that's filled with junk. It makes it easier (and cheaper) to eat right and well. Brining snacks or your lunch to work means you're less likely to go out and get a big burger with fries for lunch or raid the vending machine in the afternoon. It also allows you to monitor your portion control, a biggie when it comes to making good food choices.
Continue Learning about Eating Habits and Nutrition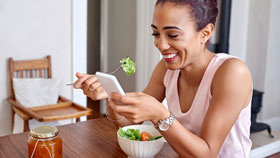 Three meals a day or five? That's only one aspect of the behavior known as eating habits. There is also the matter of style. Do you plan your meals or eat on the run - do you eat when you are happy, sad, or stressed - these are ot...
hers. Recognizing your eating style can help you work to achieve healthier eating habits.
More