Take a look at the foods you're eating. If they're high in sugar and refined ingredients and low in fiber, what's happening is the sugar is absorbed into your bloodstream as soon as you eat your food. To bring down this instant surge in blood sugar, your body secretes high levels of insulin. The insulin does its job to decrease your blood sugar, but pretty soon you feel hungry again. So begins the vicious cycle of feast and famine. Instead of sugary, processed foods, choose foods that are high in fiber. They'll be absorbed and leave your stomach more slowly. You'll feel full longer, and your blood sugar will stay on an even keel.
Continue Learning about Eating Habits and Nutrition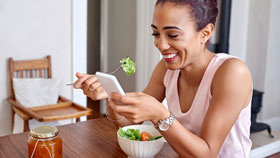 Three meals a day or five? That's only one aspect of the behavior known as eating habits. There is also the matter of style. Do you plan your meals or eat on the run - do you eat when you are happy, sad, or stressed - these are ot...
hers. Recognizing your eating style can help you work to achieve healthier eating habits.
More