It's important to eat small portions, or mini-meals, several times throughout the day with healthy snacks in between to prevent hunger binges and to restore your stomach to its intended size.

Remember when Mom told you to clean your plate because of the starving kids in India? Well, she created "Pavlovian" conditioning without knowing it. Many people would rather die than scrape food into the garbage. It's going to take you some time to work at putting less food on your plate and eating until you're satisfied. Often when we overeat we find ourselves feeling sleepy. Well stuffing yourself causes much of the body's machinery to temporarily shutdown in order to focus on the task of digestion. Eating several small meals throughout the day, or grazing, is better for your body.
Continue Learning about Eating Habits and Nutrition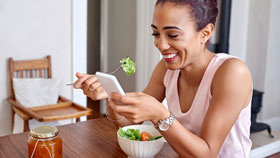 Three meals a day or five? That's only one aspect of the behavior known as eating habits. There is also the matter of style. Do you plan your meals or eat on the run - do you eat when you are happy, sad, or stressed - these are ot...
hers. Recognizing your eating style can help you work to achieve healthier eating habits.
More