You should eat bigger meals earlier in the day, because the digestive tract is most active during the day. Watch integrative gastroenterologist Robynne Chutkan, MD, discuss why eating a big meal mid-day is ideal for beating bloat and weight gain.
Eating bigger meals at breakfast and lunch, when your activity levels are high, gives you hours to burn these calories. When you ingest a big meal at night (750-plus calories is an average dinner), you have ended the day with high-caloric intake. This would be okay a few thousand years ago when we did not know when or where our next meal was coming from. Food today is plentiful, so you do not have to overdo it at night.

Why is breakfast so important? While we sleep, our body is fasting and storing calories. Breakfast jump-starts your metabolism into a calorie-burning machine. If you sleep for six to eight hours at night, your body is going without food or water for an extended period of time. This is pretty incredible considering this high-performance machine relies on protein, carbohydrates, fats, water, vitamins, and minerals to run. You should eat something within one hour of getting up in the morning. Jump-start that metabolism right away!
Continue Learning about Eating Habits and Nutrition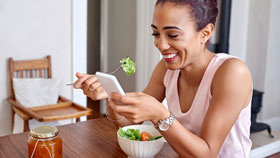 Three meals a day or five? That's only one aspect of the behavior known as eating habits. There is also the matter of style. Do you plan your meals or eat on the run - do you eat when you are happy, sad, or stressed - these are ot...
hers. Recognizing your eating style can help you work to achieve healthier eating habits.
More