Do you ever find that in order to get through the day, you have to pop M&Ms, endless sticks of gum, or drink bottle after bottle of diet coke? You must be medicating your stress instead of trying to figure out the intuition behind your hunger, your boredom, your cravings. If you don't try to listen to that intuition that comes to you in the form of reaching for the M&Ms, then ounces of M&Ms and ounces of chips, ounces of diet coke will turn into pounds on the scale. Learning to listen to your intuition will help you listen to the smaller health symptoms, the twigs, the sticks, that get thrown at you on your career path rather than facing a much larger health problem. So it's important to know that before you enter into any job in your life, and vocational choice, you learn to listen to the little, the smallest symptoms of intuition before they get out of hand.

Continue Learning about Eating Habits and Nutrition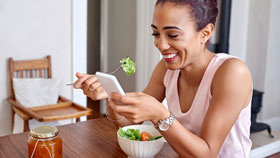 Three meals a day or five? That's only one aspect of the behavior known as eating habits. There is also the matter of style. Do you plan your meals or eat on the run - do you eat when you are happy, sad, or stressed - these are ot...
hers. Recognizing your eating style can help you work to achieve healthier eating habits.
More