The body is like a factory. And when the evening whistle blows, all of your metabolic workers leave for the night. That means, any extra fuel you put into your body after around 8 pm is more likely to be stored as fat. There simply aren't any metabolic factory workers around to burn it. The cutoff period of 8pm is not arbitrary, it's based on the fact that your hormones, like cortisol, normally taper off around sundown to prepare the body for rest and restoration.

When the sun is up, so are the metabolic hormones that stimulate our cells to do their work of replenishing our body's vital organs, downloading memories, and assimilating nutrients. There is no need to provide extra calories at night that are not likely to be processed or burned. If you find you have the munchies, make a hot cup of tea or have a small piece of fruit. Drink more water if you must and go to bed!
Continue Learning about Eating Habits and Nutrition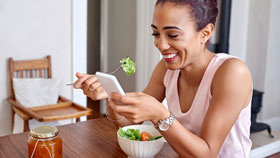 Three meals a day or five? That's only one aspect of the behavior known as eating habits. There is also the matter of style. Do you plan your meals or eat on the run - do you eat when you are happy, sad, or stressed - these are ot...
hers. Recognizing your eating style can help you work to achieve healthier eating habits.
More