When you do not sit down to eat, you tend to rush and not really taste your food. Eating directly from the bag is awkward. We have often lost in today's crazy world the art of dining. Even when you are in a hurry, it is best to plate your food and take time to eat. Often times when you eat quickly the meal is over before your brain registers you are full. Bagged lunches from home are generally healthier than a bagged fast food lunch.
Putting food on a plate instead of eating it right from the bag can significant cut down on mindless eating. There are three reasons why:
Placing food on a plate gives you a visual cue. It can help you to be more fully aware of your portion size.
Serving food on a dish also creates a pause point. In other words, a point where you slow down and ask yourself an important question -- how much do I want? When you eat from the bag, it's easy to let the size of the bag determine your portion size.
Using a plate can also create more enjoyment. Think for a moment about how it feels to eat a burger right out of a bag while you are driving versus sitting at a table. We tend to eat less when we enjoy the food more.
Bag-to-mouth eating is a recipe for disaster since it's impossible to gauge serving sizes this way. When you're grabbing out of a seemingly bottomless pit, you're likely to underestimate how much food you've actually eaten. Look before it's too late. That means plate it and then eat it.
This content originally appeared on
doctoroz.com
Continue Learning about Eating Habits and Nutrition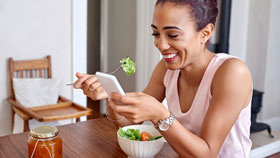 Three meals a day or five? That's only one aspect of the behavior known as eating habits. There is also the matter of style. Do you plan your meals or eat on the run - do you eat when you are happy, sad, or stressed - these are ot...
hers. Recognizing your eating style can help you work to achieve healthier eating habits.
More