As much as we would like to blame it on the buds, many other factors influence what we prefer to eat. The sense of touch might play a role because a person's ability to perceive the creaminess of fats may influence palatability. Then there are individual differences in the ability to fight food urges, try new foods, learn eating behaviors (yes, you can learn to love a new food), and other genetic influences.
This content originally appeared on
doctoroz.com
Continue Learning about Eating Habits and Nutrition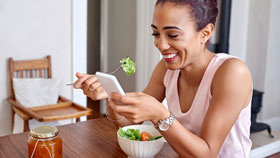 Three meals a day or five? That's only one aspect of the behavior known as eating habits. There is also the matter of style. Do you plan your meals or eat on the run - do you eat when you are happy, sad, or stressed - these are ot...
hers. Recognizing your eating style can help you work to achieve healthier eating habits.
More