You may have heard the saying, "breakfast, it breaks the fast". That is true...our bodies are resting and fasting during sleep for at least 8, but preferably up to 10 to 12 hours. Here is the problem, though: some people get up in the night during those 8 hours or are working during the night or only eat one meal a day-yikes! All of these situations should be considered if you fall under one of those categories and are not eating breakfast.

Take a look at your 24-hour schedule. Whenever you go to sleep, ideally you are resting and not eating for at least 8 hours. This is a good thing! When you wake you may want to eat "breakfast" within a few hours. Those who do eat within a few hours of rising are less likely to overeat at the end of "their 24 hours".

The best breakfast has a food containing protein. This may include an egg, cottage cheese, lean meat (chicken, pork loin, lean beef, turkey), fish or seafood, low-fat cheese or nuts. A source of fiber is also desirable, such as a whole grain cereal, whole grain bread, nuts again, fresh fruit or vegetables. Beyond that the choice is yours. If a tuna on wheat, a yogurt fruit smoothie, bowl of cereal or egg on an English muffin appeal to you when you rise, go for it. Your body and mind will thank you.
I know you've all heard it before, but breakfast is by far the most important meal of the day, and according to your body's internal clock (called circadian rhythms) you should be eating it at 7:30 am, or whenever you first wake up. It gets your metabolism burning, wakes up your brain, and gives you the energy you need to fuel your entire day. Plus, when you first wake up it's been about 10 hours since your last meal. If you don't fuel your engines right away, your body will enter into starvation mode, which is a diet deathtrap.
Continue Learning about Eating Habits and Nutrition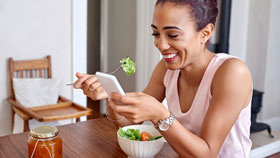 Three meals a day or five? That's only one aspect of the behavior known as eating habits. There is also the matter of style. Do you plan your meals or eat on the run - do you eat when you are happy, sad, or stressed - these are ot...
hers. Recognizing your eating style can help you work to achieve healthier eating habits.
More