You probably skip breakfast occasionally, or grab a food bar or a muffin and coffee and save your big meal for dinnertime. Maybe it's time to re-think that meal plan. You need adequate physical and mental energy to get through a productive day and your metabolic rate is probably highest in the first half to third of the day. So wouldn't it make sense to have your biggest meal of the day for breakfast and go light at dinnertime?

Many people have embraced this food concept, eating dinner foods for breakfast and breakfast foods for dinner. Or they have simply decided to make breakfast the largest meal of the day and dinner the smallest. One way to marry these two concepts is to create a large first meal-of-the-day that includes an omelet with low fat cheese and an abundant variety of vegetables, a side dish of whole grains or whole grain toast, fresh fruit and a cup of fat free milk, almond or soy milk or a latte with one of these. Dinner can be yogurt and fruit and baked crackers; a wrap with tuna, a variety of vegetables and a cup of broth soup; a small homemade individual thin whole grain crust pizza with sautéed vegetables and a light sprinkle of low fat parmesan cheese. Then, instead of having a typical, very large dinner and after dinner snack, time your snacks for between breakfast and lunch, and lunch and dinner.
Continue Learning about Eating Habits and Nutrition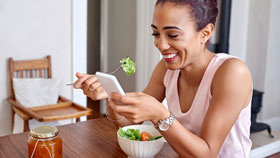 Three meals a day or five? That's only one aspect of the behavior known as eating habits. There is also the matter of style. Do you plan your meals or eat on the run - do you eat when you are happy, sad, or stressed - these are ot...
hers. Recognizing your eating style can help you work to achieve healthier eating habits.
More