One hears all the time to limit portions, or to eat a certain amount of "servings" of fruit and vegetables per day. Here is a guide for some common portion sizes. One serving of each of these types of food looks like:
Medium whole raw fruit: A baseball
3 oz piece of meat or fish: A deck of cards
1 cup of fruit or vegetables: A person's fist
1 oz of cheese: A pair of dice
1 teaspoon: Tip of the thumb (from the knuckle)
1 tablespoon: 3 thumb tips
1/2 cup pasta (cooked): A scoop of ice cream
1 cup green salad: 2 cupped hands
Continue Learning about Eating Habits and Nutrition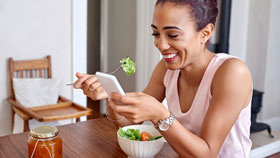 Three meals a day or five? That's only one aspect of the behavior known as eating habits. There is also the matter of style. Do you plan your meals or eat on the run - do you eat when you are happy, sad, or stressed - these are ot...
hers. Recognizing your eating style can help you work to achieve healthier eating habits.
More