You can use your hand or objects as a tool to measure portion sizes. The palm of your hand is = to a 3 ounce meat portion, 1 fist = 1 cup serving, 1 hand cupped = ½ cup portion.

Using objects can help you visualize correct portion sizes too. Some examples are: 6 regular ice cubes = 1 cup of vegetables, 6 dice = 1.5 ounce cheese; 1 tennis ball = 1 cup of vegetables, fruit or milk; a deck of playing cards = 3 ounces of meat, fish or poultry; 1 large egg = ½ cup of raisins.

Continue Learning about Eating Habits and Nutrition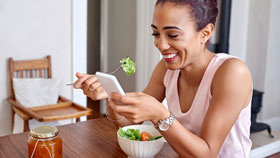 Three meals a day or five? That's only one aspect of the behavior known as eating habits. There is also the matter of style. Do you plan your meals or eat on the run - do you eat when you are happy, sad, or stressed - these are ot...
hers. Recognizing your eating style can help you work to achieve healthier eating habits.
More