Restaurants can be a gamble -- when you try a new one, you don't know what you'll get in terms of service, food and cleanliness. In this video, Dr. Oz Show guest and celebrity chef Richard Blais gives his advice for an enjoyable dining experience.
A good restaurant experience starts with getting educated about your dining choice. Going out to eat is a treat for many (including me) so I take going out seriously and only want to dine at places that have clean and thoughtful food. I never shy away from asking a lot of questions about menu items and being specific about how I want my food prepared. Communication is key. Most restaurants have websites (with their menus listed) so surely scour. And read customer reviews.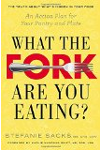 More About this Book
What the Fork Are You Eating?: An Action Plan for Your Pantry and Plate
It's labeled "natural," "grass-fed," or "free-roaming;" yet it might be anything but. It's time to find out what you're actually eating... When your groceries are labeled "low-fat," "sugar-free," and even "natural" and "antibiotic-free," it's easy to assume that you're making healthy choices. Yet even some of those seemingly wholesome offerings contain chemical preservatives, pesticides, and artificial flavors and coloring that negatively affect your health. In What the Fork Are You Eating?, a practical guide written by certified chef and nutritionist Stefanie Sacks, MS, CNS, CDN, we learn exactly what the most offensive ingredients in our food are and how we can remove (or at least minimize) them in our diets. Sacks gives us an aisle-by-aisle rundown of how to shop for healthier items and create simple, nutritious, and delicious meals, including fifty original recipes.  
Continue Learning about Eating Habits and Nutrition