Food journaling is a great way to get in touch with your hunger. Write down your level of hunger every time you eat something. Soon you will begin to identify when you are really hungry and when you are eating for other reasons such as boredom or to reduce anxiety. Start exercising. Once you expend the time and energy to work out, you usually begin to pay more attention to what you eat and when.
Every find yourself standing at the kitchen counter with an open bag of potato chips, wondering 'How did I get here?" In this video, fitness expert Chris Powell shares an easy trick for putting the brakes on mindless eating.
Continue Learning about Eating Habits and Nutrition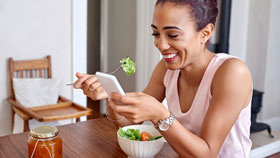 Three meals a day or five? That's only one aspect of the behavior known as eating habits. There is also the matter of style. Do you plan your meals or eat on the run - do you eat when you are happy, sad, or stressed - these are ot...
hers. Recognizing your eating style can help you work to achieve healthier eating habits.
More