Every day you should have two snacks, one between breakfast and lunch and one between lunch and dinner. Choose from the following list:
a bowl of strawberries, raspberries, blueberries or blackberries, alone or with honey dipping sauce
bunch of grapes
a couple of plums or apricots, alone or with honey dipping sauce
vegetable crudités with home-made or low-fat hummus or avocado dip
a small handful of unsalted nuts or seeds
large slice of melon or pineapple, alone or with honey dipping sauce
a banana, alone or with peanut butter-honey spread
fruit smoothie
Continue Learning about Eating Habits and Nutrition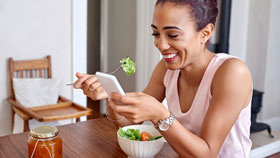 Three meals a day or five? That's only one aspect of the behavior known as eating habits. There is also the matter of style. Do you plan your meals or eat on the run - do you eat when you are happy, sad, or stressed - these are ot...
hers. Recognizing your eating style can help you work to achieve healthier eating habits.
More