The best way to prevent cravings is to make your meals clean, with lean protein, healthy fats, lots of leafy and cruciferous veggies and slow-release high-fiber carbs like quinoa. This combo should keep you full and focused for 4-6 hours. If you need to snack, slow-roasted or dehydrated nuts and seeds make a great crave-busting snack. So do celery and no sugar added almond butter or hummus with kale chips. Remember when you snack, you are adding to your caloric load and potentially triggering the release of insulin, a hormone that stores fat.
Conquer cravings before they start by being prepared with emergency snacks. Have automated emergency snacks on hand that are full of fiber, like nuts and edamame.
This content originally appeared on
doctoroz.com
Continue Learning about Eating Habits and Nutrition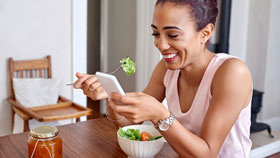 Three meals a day or five? That's only one aspect of the behavior known as eating habits. There is also the matter of style. Do you plan your meals or eat on the run - do you eat when you are happy, sad, or stressed - these are ot...
hers. Recognizing your eating style can help you work to achieve healthier eating habits.
More