Adults think midmorning snacks are just for kids, but many of us get cranky around this time. It could be due to skipping breakfast, or perhaps you only managed to have a skimpy bite while running out the door. By around 10 or 11 a.m., your body needs a hit of nutrients to keep you level until you can take a lunch break. I like to keep pumpkin seeds (also called pepitas) on hand because they're portable and nonperishable, and they're also packed with the mineral magnesium, which helps you relax by regulating blood pressure. They're naturally very low in sugar, so you won't have a sugar crash before heading to lunch.

I like to portion pumpkin seeds into 1/4-cup servings (169 calories; 162 mg magnesium) and put them in zip-top bags or reusable fabric bags and stow them in my purse and gym bag. You can eat them plain, use them in trail mix, and bake them into muffins. And when you're not eating them as a snack, you can grind them up, mix them with spices, and use them as a healthier breadcrumb alternative on chicken and fish.
Continue Learning about Eating Habits and Nutrition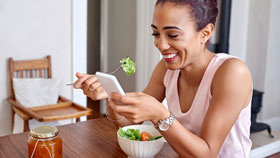 Three meals a day or five? That's only one aspect of the behavior known as eating habits. There is also the matter of style. Do you plan your meals or eat on the run - do you eat when you are happy, sad, or stressed - these are ot...
hers. Recognizing your eating style can help you work to achieve healthier eating habits.
More