Imagine a slightly inflated iPhone. A serving of red meat should be about that size, or 3.5 ounces. At home, it's simple enough to weigh out that much on a food scale, but when was the last time you saw a 3-ounce steak on a menu? Order your steak, eat half, and take the rest home in a doggie bag. If you know you can't resist eating the whole thing, ask your server to have the chef wrap half and to serve you the other half. And if your entrée is served with butter or a sauce, request that it be served on the side.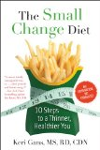 Continue Learning about Eating Habits and Nutrition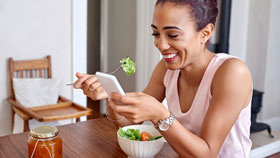 Three meals a day or five? That's only one aspect of the behavior known as eating habits. There is also the matter of style. Do you plan your meals or eat on the run - do you eat when you are happy, sad, or stressed - these are ot...
hers. Recognizing your eating style can help you work to achieve healthier eating habits.
More