Below are some of the top foods that are healthy, but still can't be eaten in unlimited quantities while trying to lose weight:
Brown Rice: Nutritionally speaking, brown rice is better than white -- it has more fiber and it's a whole grain, but that doesn't mean you get to eat more of it. Once you learn that the proper serving size is a half cup, you must recognize that the measurement applies to all kinds of rice.
Olive Oil: Olive oil is another ingredient people allow themselves in ample quantities because they know it is a healthy fat. However, one teaspoon is the proper serving size, not liberal pours from the bottle.
Avocado: Here again, people understand that this is a healthy food choice, but it is still a fat. The proper serving size for an avocado is about one-eighth of the fruit.
Almonds: Nuts make a great snack, but you can't just eat them by the handful. The proper serving size is approximately six nuts.
Salmon: I am a big advocate of salmon, and I recommend all of my clients eat it at least once a week for the omega-3s. However, salmon is not as lean as other types of proteins, so it's something you should learn to eat in the proper portion sizes.
100% Fruit Juices: Juices are packed with antioxidants, but a serving size is only a mere four fluid ounces not twenty-four ounces.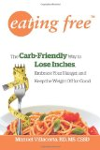 Continue Learning about Eating Habits and Nutrition