If you like the idea of healthy, low-calorie snacks, 100-calorie protein-packed snacks may be a good option.

Light tuna packed in water only contains about 50 calories in 2 ounces, and canned chicken breast has 60 calories for the same amount. Season with a squeeze of lemon and a dash of salt and pepper and spread on a few cucumber slices or wrap in lettuce. You'll get 11 to 13 grams of protein, and if you go with the fish, you'll get some healthy omega-3s.
Continue Learning about Eating Habits and Nutrition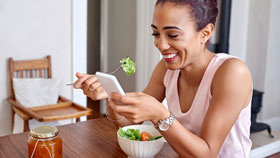 Three meals a day or five? That's only one aspect of the behavior known as eating habits. There is also the matter of style. Do you plan your meals or eat on the run - do you eat when you are happy, sad, or stressed - these are ot...
hers. Recognizing your eating style can help you work to achieve healthier eating habits.
More