For a low-calorie nut snack, eat only a small handful of nuts, usually about a dozen. Nuts are calorie dense but packed with nutrition. An almond, for example, has about 8 calories per nut -- but it's a great source for protein and fiber. Cashews, pistachios, peanuts and almonds have fewer calories than some other nuts. At the high end are macadamias, pecans, pine nuts and Brazil nuts.
Continue Learning about Eating Habits and Nutrition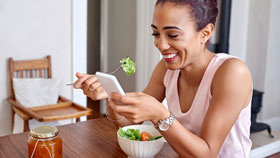 Three meals a day or five? That's only one aspect of the behavior known as eating habits. There is also the matter of style. Do you plan your meals or eat on the run - do you eat when you are happy, sad, or stressed - these are ot...
hers. Recognizing your eating style can help you work to achieve healthier eating habits.
More