For a low-calorie cheese snack, go for a low-fat mozzarella cheese stick (70 calories). Accompany it with a few grapes (just 34 calories for 10 small red grapes) or a few small whole-wheat crackers (only 32 calories in four low-fat Wheat Thins). Calcium is an important part of a healthy diet, but cheese can contain a lot of fat. If you take your time peeling apart and savoring the strings of cheese, you'll feel like you've had a satisfying, hearty snack!
Continue Learning about Eating Habits and Nutrition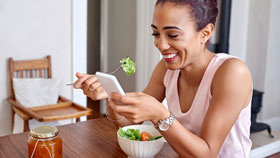 Three meals a day or five? That's only one aspect of the behavior known as eating habits. There is also the matter of style. Do you plan your meals or eat on the run - do you eat when you are happy, sad, or stressed - these are ot...
hers. Recognizing your eating style can help you work to achieve healthier eating habits.
More