When I'm bored, I'll usually plop myself in front of some mindless television show, and start snacking on anything and everything. I don't really pay attention to what I'm eating; it's more of a way to keep hands and mouth busy. This behavior is completely the opposite of what a dog does when he's bored.

Every now and then, I'm too wrapped up in work and my dog spends much of the day just lying around. He clearly looks bored and jumps up excitedly whenever I get up for a drink or trip to the bathroom. He also wanders over to his food dish, sniffs the leftovers from breakfast, and passes them by. When he's bored, his solution is usually to go outside and dig a hole or find some other entertainment, like catching rain drops or chasing butterflies. Model your response to boredom after your dog. Don't munch. Get active.

So when you're bored, don't look to the kitchen. Look for a physical activity - go for a walk, play ball with your dog, do some jumping jacks, or take a shower. The physical exertion will act as a stress reliever for your mind and put you in a better frame of mind to have a positive attitude to find something interesting or entertaining.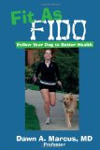 More About this Book
Fit As Fido: Follow Your Dog to Better Health
Let your dog teach you to live a happier, healthier, and more fulfilling life! Companionship with your pet can be used as a means and a motivator to increase your own physical and mental fitness....
Continue Learning about Eating Habits and Nutrition