Slice up apples pieces and put them in a tupperware. Grapes and carrot sticks are also a good option. Take a hanful of nuts: pecans, walnuts, pistachios, almonds, or cashews. Pretzels and baked chips are a healthier snack item than regular fried chips. Try natural peanut butter with crackers. Celery and peanut butter. Try hummus with some veggies. Low-fat yogurt with granola. If you are craving something sweet, pack a 100 calorie portioned out bag of whatever snack you like.
The office snack drawer, vending machine and breakroom can be your friend or foe. It's a good idea to take an offensive stance on workplace snacking. Keep it healthy with these tips:
Someone is born every day but that doesn't mean you or your waistline can afford birthday cake daily. When you hear your co-workers getting ready to sing, consider going for a walk.
Watch out for your co-workers' candy bowl. Those daily nibbles can add up to weight gain.
Even with a stash of healthy options, be sure to keep portion sizes under control.
Keep a stash of healthy options at work:

Fresh fruit
Cut carrots, grape tomatoes and roasted edamame
Low fat yogurt, milk and cheese
Whole grain granola bars
Almonds, pistachios, walnuts or peanuts
Light microwave popcorn
I know that work days can become hectic, so convenient, healthy foods are imperative. Here are a few options that you can keep stocked in your office refrigerator or desk drawer:
Raw almonds, walnuts, pecans and macadamia nuts
Fresh fruit
Low fat cheese sticks
Baby carrots, celery and pepper strips and hummus dip
Sliced apple, baby carrots or celery dipped in 1-2 TB natural peanut butter
Plain non-fat Greek yogurt or low-fat/non-fat cottage cheese topped with fruit (frozen berries work best) and a drizzle of honey
Hard boiled eggs
Edemame (soybeans still in the shell) are now available in single serving sizes in the freezer section at your grocery store
The whole foods mentioned above are your best choices, however, keep an emergency stash of these foods on hand:
Pre-made protein shakes
Protein bars
Low sodium vegetable soup
This way you will never be caught unprepared and trips to the vending machine will become a thing of the past!
Continue Learning about Eating Habits and Nutrition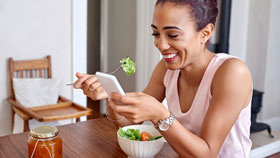 Three meals a day or five? That's only one aspect of the behavior known as eating habits. There is also the matter of style. Do you plan your meals or eat on the run - do you eat when you are happy, sad, or stressed - these are ot...
hers. Recognizing your eating style can help you work to achieve healthier eating habits.
More