Meal multitasking means doing other things while you're eating, such as: watching TV, reading, working at the computer or driving (which is also dangerous). These habits take the focus off the food and make you more likely to overeat without realizing it.
This content originally appeared on
doctoroz.com
Continue Learning about Eating Habits and Nutrition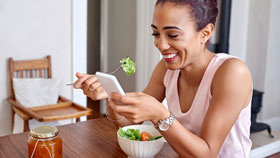 Three meals a day or five? That's only one aspect of the behavior known as eating habits. There is also the matter of style. Do you plan your meals or eat on the run - do you eat when you are happy, sad, or stressed - these are ot...
hers. Recognizing your eating style can help you work to achieve healthier eating habits.
More