Junk food pairs two unrelated terms: junk -- sugary or salty processed stuff with little or no nutritional value (nonfood) -- and food. Food is grown or raised and contains nutrients that the body needs. Junk is made. It's processed and refined, designed primarily to tantalize our palates.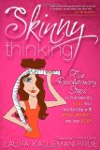 Healthy food is nutrient dense and calorie poor. Full of fiber, antioxidants, vitamins and minerals and serves a purpose in fueling our bodies, fighting free radicals and keeping us healthy.

JUNK food serves no purpose. The calories are empty of nutrients. They are processed foods that may be full of chemicals, fat, salt, and sugar. All major agers of the body and are arteries and inflammatory instead of anti-inflammatory. Empty calories that we may think are tasty for that moment on our lips but bring inches and health effects that last much longer for our bodies and our hips.
Continue Learning about Eating Habits and Nutrition