You are what you eat -- and you eat what you have on hand. So bag the chips and fill your pantry with healthy staples. Instead of a pan of brownies on the counter, have a bowl of fresh fruit, which cues you to indulge in a healthy snack. Gradually remove the no-nutrition items from your pantry and replace with healthy staples like oatmeal, brown rice and other grains, beans, savory spreads like pesto and hummus, nut butters, nuts and seeds, olive oil, plenty of fruits and vegetables, and aromatic herbs and spices to dress your meals up.
Keep fruit, veggies or nuts on hand at all times. Once a week I make sure that I have simple things on hand for those times that I feel like I want a crunchy or sweet snack. Rather than eating candy or cookies, I reach for fresh strawberries, an orange, baby carrots with cream cheese or a handful of cashews or almonds. It's hard to resist something crunchy or sweet in the afternoon when our energy levels start to dip. So be prepared for the munchies with nature's original fast foods and you'll avoid the extra 200 to 300 calories that could add up to a pound per week in weight loss!
Continue Learning about Eating Habits and Nutrition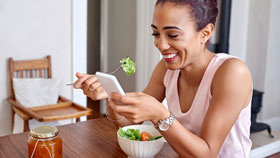 Three meals a day or five? That's only one aspect of the behavior known as eating habits. There is also the matter of style. Do you plan your meals or eat on the run - do you eat when you are happy, sad, or stressed - these are ot...
hers. Recognizing your eating style can help you work to achieve healthier eating habits.
More