Depending on the length of the meeting, consider whether it is necessary to offer a healthy morning and afternoon food break. The following are some light refreshment options:
sliced fresh fruit and vegetable tray -- offered with low-fat dips
whole grain crackers or granola bars -- look for 5 grams (g) fat or less per serving
an assortment of low-fat cheeses and whole grain crackers
baked pita chips served with hummus
whole grain muffins (cut in half if not serving mini muffins) and whole grain breads
low-fat yogurt
pretzels, popcorn, baked chips and trail mixes
Continue Learning about Eating Habits and Nutrition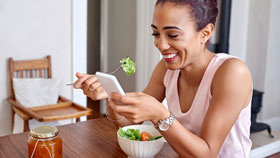 Three meals a day or five? That's only one aspect of the behavior known as eating habits. There is also the matter of style. Do you plan your meals or eat on the run - do you eat when you are happy, sad, or stressed - these are ot...
hers. Recognizing your eating style can help you work to achieve healthier eating habits.
More