Snacks should be considered a mini meal. There are not designated portion sizes for snacks as the calories from foods vary. As far as total calories from a snack, you should keep the calories less than 100 if you are trying to lose weight. The portions and calories of snacks depend on your total calories eaten for the day to ensure you are receiving the correct amount of calories-not too much, not too little. 100 calories of peanuts is approximately 20 peanuts versus 100 calorie portion of a baked apple is two apples.
Continue Learning about Eating Habits and Nutrition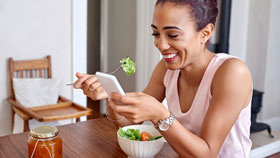 Three meals a day or five? That's only one aspect of the behavior known as eating habits. There is also the matter of style. Do you plan your meals or eat on the run - do you eat when you are happy, sad, or stressed - these are ot...
hers. Recognizing your eating style can help you work to achieve healthier eating habits.
More